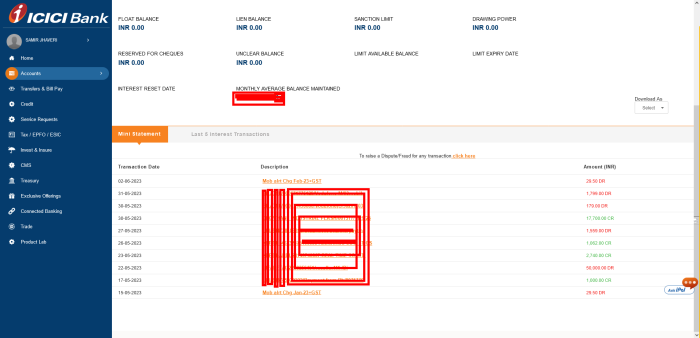 I recently observed that ICICI Bank charged me Rs 29.50 per month in 2 previous months for sending me SMS alerts. If you're ALSO one of the folks who have received SMS alert charges in your ICICI Bank account statement, you are not alone. Above is a screenshot from one of my current accounts with ICICI Bank. Surprisingly, they are levying Jan'23 charges on 15th May'23 and Feb'23 charges on 2nd June'23! So now I just cannot avoid the charges for March to June'23! Mister ICICI where were you all these days months??? And, BTW where is the intimation that you will be levying such charges? Aren't you supposed to inform us in advance?
Instead of visiting my home branch, I visited another branch (Nana Chowk, Mumbai). They said that SMS charges cannot be de-activated. However, I should try visiting my home branch and maybe they could help me. I then tried to search a remedy online but could not find any. Except, there's a video on youtube which could help you. Do check it out here: https://www.youtube.com/watch?v=HoKvfTfGaWg
I am traveling from today for the next few days, so I will visit my home branch after I'm back. Meanwhile, stay tuned… I will update this page shortly. ICICI never fails to piss me off huh?
Please follow and like us: